NFTDrive Inc. (Kyoto, Japan; CEO: Michio Nakashima) has developed a new SMTP serverless email exchange service that leverages the superior functionality of the Symbol blockchain. This new solution provides a "WEB3 experience" that combines the robust security of the blockchain with convenient features.
Blockchain made easy to use
"NFTDriveMail" is an application that runs on "NFTDriveEX" and is email software that incorporates elements of the Symbol blockchain. Users can send emails and also attach data in the same way as traditional email operations. The email software incorporates Symbol blockchain technology, which provides superior security in terms of confidentiality, integrity, availability and non-repudiation.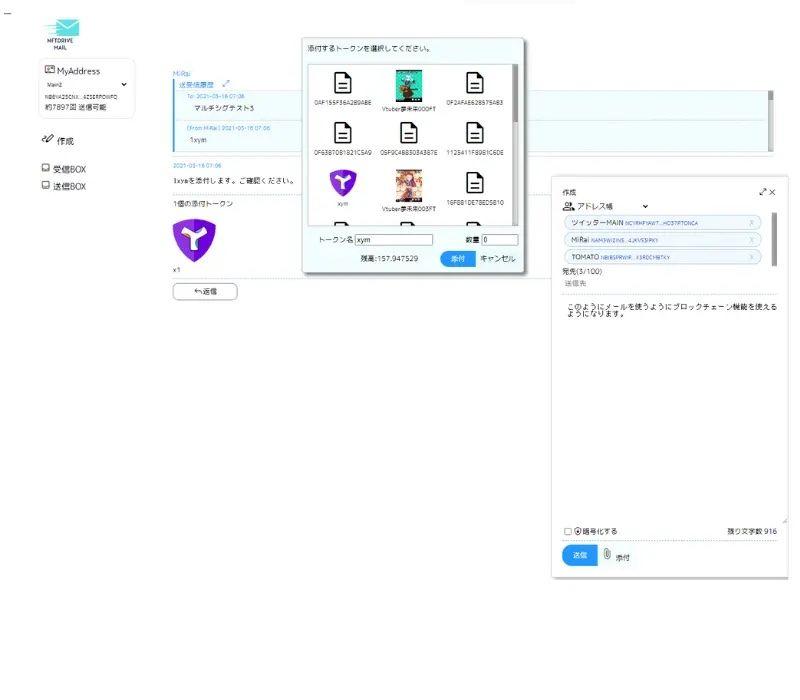 ※Screenshot under development
As it is SMTP server-less (it can operate as an alternative protocol to traditional mail servers), it retains the advantages of the Symbol blockchain and can also be used as a means of communication in the event of a disaster with zero downtime, and treats tokens like attachments.
In addition, due to the nature of blockchain, there is no risk of disappearance or tampering.
Sending messages and tokens is simple, with the NFTs owned and other information displayed on the file selection screen and intuitively selected by the user. Messages in emails can also be encrypted using Symbol's blockchain functionality, preventing other users from reading them.
Coming soon. The launch will be announced on the official X (Twitter) of NFTDrive Inc.
Links
Media